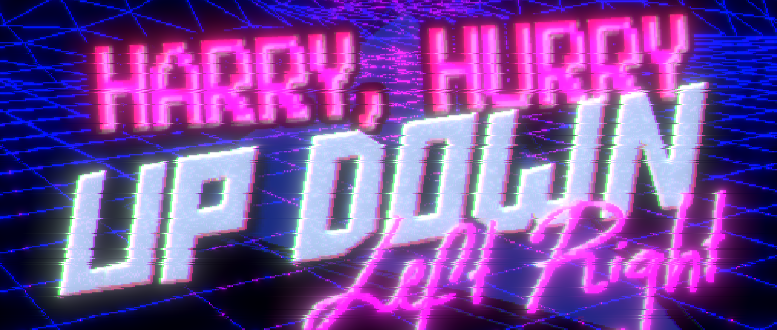 Harry Hurry Up-Down-Left-Right!
A downloadable game for Windows
A cursed scroll has set the wind to blow from east, west, south and north, moving the camera in different directions.

Controles
Moverse - WASD / Arrows / Stick izquierdo (mando XBOX 360)
Saltar - O/Z/Space/ A Button (XBOX 360 controller)
Cerrar el juego :( - Manten presionado ESCAPE unos segundos
Creditos
Carla L. R. - Arte, diseño, creación de la portada y del personaje, efectos de sonido
Óscar R. B. (@chocoboflo) - Programación, música, diseño y animación.
Jam-Postmortem edit:
El tiempo que en un principio teniamos planificado para calibrar la dificultad, tuvo que ser invertido en corregir ciertos bugs. El resultado es una inexistente curva de dificultad; a veces es demasiado fácil y otras demasiado dificil.
Pero nos ha encantado la idea y las posibilidades que tiene. Queremos pulirlo, y añadir todo el montón de ideas que se quedaron fuera (distintos (¡muchos!) tipos de plataformas, powerups, y efectos). Así como generar un mapa de forma procedural en condiciones.
Si te ha gustado (aunque sea un pelín) el juego, te animo a que te animes a seguirlo y echarle un ojo. Va a mejorar mucho.
Gracias por echarle un vistazo y jugarlo!
Comments
Log in with itch.io to leave a comment.
Hi fetralvien!
The score was meant to count the time you last in a single game. But we realized after uploading that it doesn't reset to 0 when you die :(. The game was for a jam, and we didn't have the time to reupload the game again.

We will fix it and add a more interesting score system, with some things we din't have the time to implement.
Thanks for playing and for your comment! :)

I like this very much!

Your classic jump-side-scroller visually influenced by Hotline Miami. Even though the gameplay follows a very basic objective, controls feel comfortable and its fun to play.

A very promising start, keep going guys!

Thanks a lot for playing and for the kind comment!
Yes, we didn't had the time to polish the game as we would have wanted, there are a lot of features that we didn't had the time to implement, like a lot of different platforms with different effects, powerups, and of course, a better map/platform generation.
But we ended loving the idea and all the possibilities it could have, so we will continue with the game! :D
Thanks again! :)